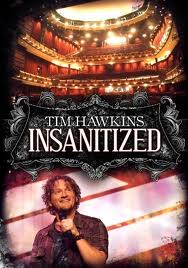 Insanitized
is a recent DVD and tour by
Tim Hawkins
. The name comes from the Insanitized comedy in the show. The DVD was recoreded at the Carson Center in Paducah, Kentucky.
The top front of the DVD displays the building where Tim Hawkins performs. The middle has the title, while the bottom has an image of Tim Hawkins during the performance.
The back of the case says at the top "70 minutes of stupitidy from Tim. Enjoy." To the middle left there is the list of bonus features (See below). Right below that in the center, text says "Recorded live at the world-class Carson Center, Paducah, Kentucky." Directly below that are the credits.
The DVD has the title with some artwork.
Comedies and Songs
Edit
Ad blocker interference detected!
Wikia is a free-to-use site that makes money from advertising. We have a modified experience for viewers using ad blockers

Wikia is not accessible if you've made further modifications. Remove the custom ad blocker rule(s) and the page will load as expected.